Description
Lubricating a treadmill the quick and easy way
Use the quick applicator top to precisely lubricate the belts for your treadmill. Follow the instructions below to apply the TR10PRO™ Silicone Treadmill Lubricant to your treadmill's belt. Renew your treadmill belt with a 100% Premium Silicone oil lubricant.
Easy Instructions to Renew Your Treadmill
Ensure the treadmill is unplugged from its power source. Unscrew the cap, and attach the easy applicator to the bottle. Remove any seals to ensure smooth flow of the lubricant.

Raise the treadmill belt from one side, and slide the applicator in as much as possible while gently squeezing the bottle at the same time. This will leave a steady stream of the lubricant under the belt.

Repeat the process on the other side.
Easily Applied Tip
 Clean the treadmill between the belt and the deck to ensure the surface is dust / dirt /debris free. Do this by running a dry cloth between the two surfaces to remove all dry particles.
Works with a wide range of Treadmills, making it an easy choice to lubricate a treadmill! Made from 100% premium Silicone, the TR10PRO™ Silicone Treadmill Lubricating Oil is custom formulated to work with a wide range of treadmills, from all the major brands.
Modern Technology, Made in the US!
Our 100% premium Silicone oil lubricant offers longer, more durable operation when compared with traditional lubricants. This is ideal for all treadmills which need non-petroleum, oil based and silicone based lubricants.
Eco Friendly, Silent Operation
No harmful chemical derivatives – No Odour, No Mess! The TR10PRO™ lubricant ensures that you have 100% lubrication without the water-down effect of traditional lubricants. The thick formulation ensures that your treadmill belts run silently without any loss in performance.
Use the Easy Squeeze bottle for precision application. The twist top makes the application process simple and quick – Quick, fast, and efficient to keep your treadmill running smoothly for years! Revive your treadmill without the struggle of loosening / tightening and readjusting the belt. (You can also see some further information about the benefits of using a Treadmill Belt Lubricant here)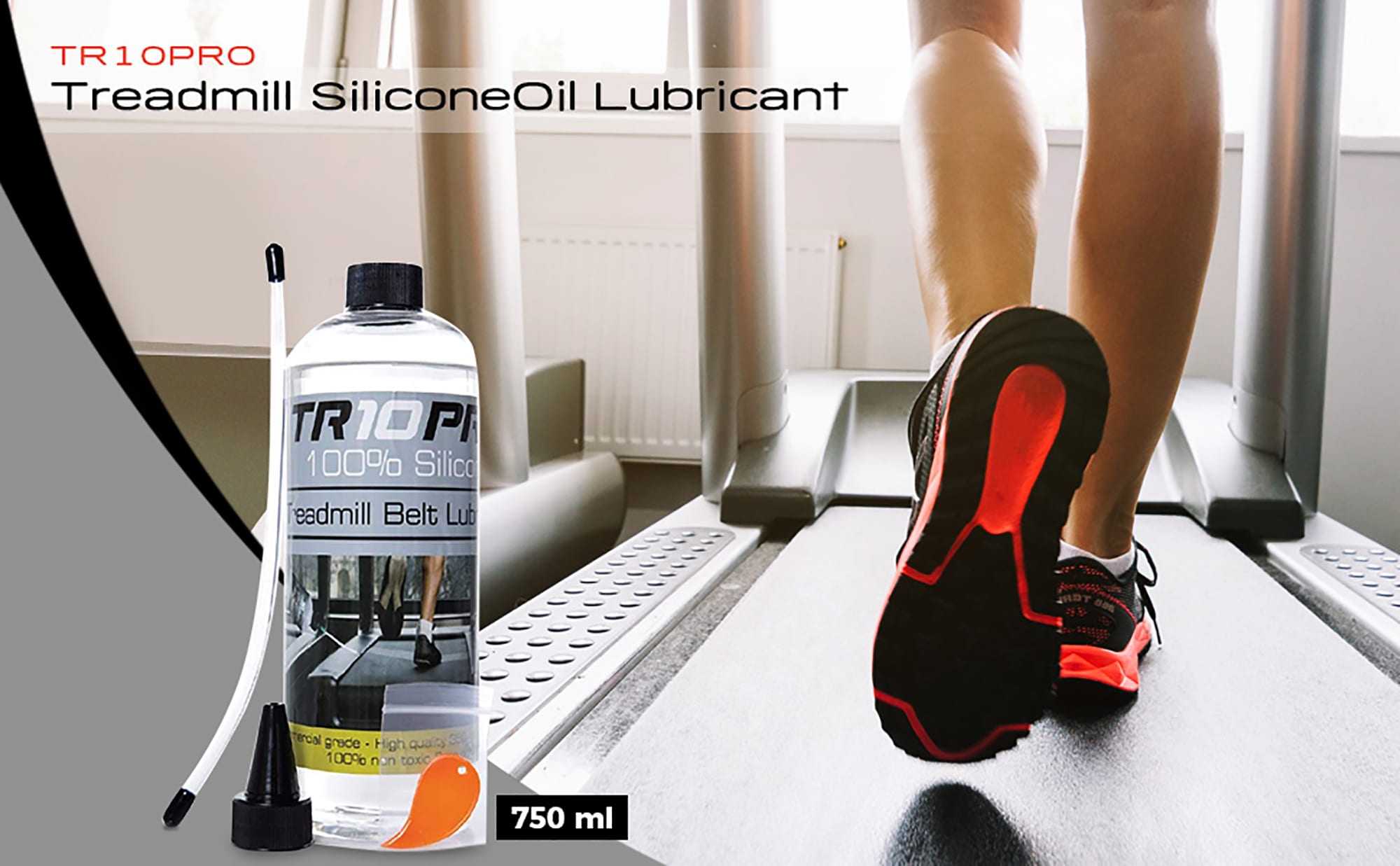 According to industry data, treadmills consistently rank as the most popular choice for home exercise equipment. If you are reading this then you have already joined the ranks of treadmill owners but keeping your treadmill healthy is really important for long-lasting use. We all know that treadmills require occasional lubrication in order to keep running smoothly; even if your tread belt appears to be operating well, rubbing in a little lube can prevent future issues.
On the same context, we present TR10Pro Treadmill Silicone Oil Lubricant for Treadmill Belt- an effective formula to keep your treadmill belt and motor, smooth and durable. It is a pure silicone-based lubricant that reduces the friction between belts and does have a long-lasting operation. The best part is that it is silicone, thick, non-oil based, sustainable made Synthetic lubricant that offers longer, more durable operation when compared with traditional lubricants.
Do not forget that the belt is the most important part of your treadmill, a little time spent lubricating the belt can pay off with years of trouble-free treadmill use.
SMOOTH, SILENT, PEAK PERFORMANCE -1/10TH THE INVESTMENT: Don't risk unexpected belt repair expenses. 750ml TR10 PRO's EASY APPLICATION, silicone spray alternative reduces noise, eliminates belt hesitation and extends treadmill motor lifespan, so your machine RUNS EVEN QUIETER & BETTER than before. TIME-SAVING, SMART PREVENTION for 1/10th the sting of a new treadmill motor or belt.
SUPERIOR SILICONE OIL – LUBRICATE YOUR GYM EQUIPMENT FOR YEARS: Ultra-thick 350cst viscosity and very high 321 degree FLASH POINT create LONGER TIMESPAN BETWEEN APPLICATIONS & FORMIDABLE RESILIENCE AGAINST WEAR and TEAR.
EASIEST HASSLE-FREE APPLICATION – DON'T WASTE TIME TIGHTENING or LOOSENING that belt! UNIQUE, Long flexible applicator included with silicone oil lubricates ALL your MOVING GYM EQUIPMENT PARTS in MINUTES – ZERO TOOLS, TECHNICAL know-how or TALENT REQUIRED. Simply attach applicator, insert, squeeze.
100% PURE & PROFESSIONAL – ZERO ODOUR, ZERO MESS, ZERO TOXINS or HARMFUL derivatives, this is the silicone lube to get if you're looking for an Eco Friendly, SUSTAINABLE silicone spray lubricant alternative that does not give off any offensive smells.
COMMERCIAL GRADE – UNIVERSAL APPLICATION: WORKS on all NON-PETROLEUM, OIL BASED and SILICONE based treadmills and gym equipment, including Commercial, Gym, Professional, Heavy Duty, Personal, Folding and even Compact Treadmill models.
Your SATISFACTION IS 100% MONEY-BACK GUARANTEED. Get it. Use it. Love how easily this keeps your machines in tip-top shape, or we'll refund your full investment.
Add Life to your Treadmill
TR10 Silicone Treadmill Lubricating Oil is a life-enhancing lubricant, customized specifically for your treadmill belts and motor. It is compatible with all brands of treadmills adding life to its operation. It is completely fit to be used for all modern machinery at Gyms, Professional, Heavy-duty, Personal, Commercial, compact, folding, and many more variants.
Easy to Apply
The twist top helps in a quick and simple application. The bottle also comes with an extra-long applicator to reach the deeper surface of the belt, for a squeak free run. The Lubricant is very easy to apply:
Unplug the treadmill to apply.

Clean the space between the belt and deck with a dry cloth to ensure the surface is dust/dirt/debris free

Raise the treadmill belt from one side and slide the applicator inside.

Gently squeeze the bottle for easy flow.

Repeat the process with the other side of the belt.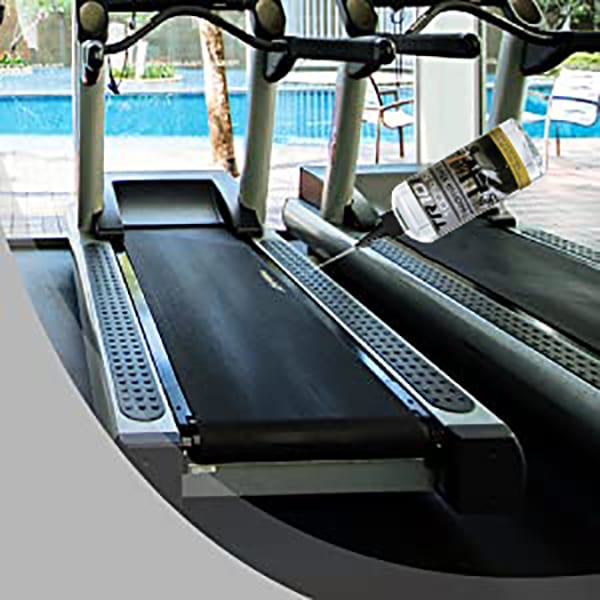 Silicone Based Lubricant
It is a synthetic lubricant made with pure silicone, non-oil-based formula that offers uninterrupted and smooth operations. Unlike the traditional lubricant, it is suitable for all treadmills that restrict petroleum and oil-based lubrication that can be applied to belts and motors.
Silent Operation
It not only expands life but adds smoothness and silent operation to your treadmill. The thick lubricant helps to reduce noise while enhancing the motor's activity. It reduces friction and eliminates belt hesitation thereby increasing the performance of the overall machinery.
Non-Toxic and Compatible
It does not contain any harmful or irritating chemical derivatives. It is safe to use, non-toxic, and non-reactive to the skin. TR10Pro Treadmill Silicone Oil Lubricant is based on silicone and thick lubricants; it is leakproof and odorless so experience the difference just after its first application.